You could say that movies about AI are forming their own separate movie genre, but not only is it the subject of movies, it is also capable of creating movies. Its application is very broad and it can make your life a lot easier. But it is also good fun and the Design and Digital PR teams at Evoluted realize this.
They used their AI to recreate some of the posters of the most famous horror movies as Halloween is approaching. It is interesting to compare the original poster with the AI-generated poster and it's a bit unsettling to think about how AI can create art and have its own interpretation.
#1  Scream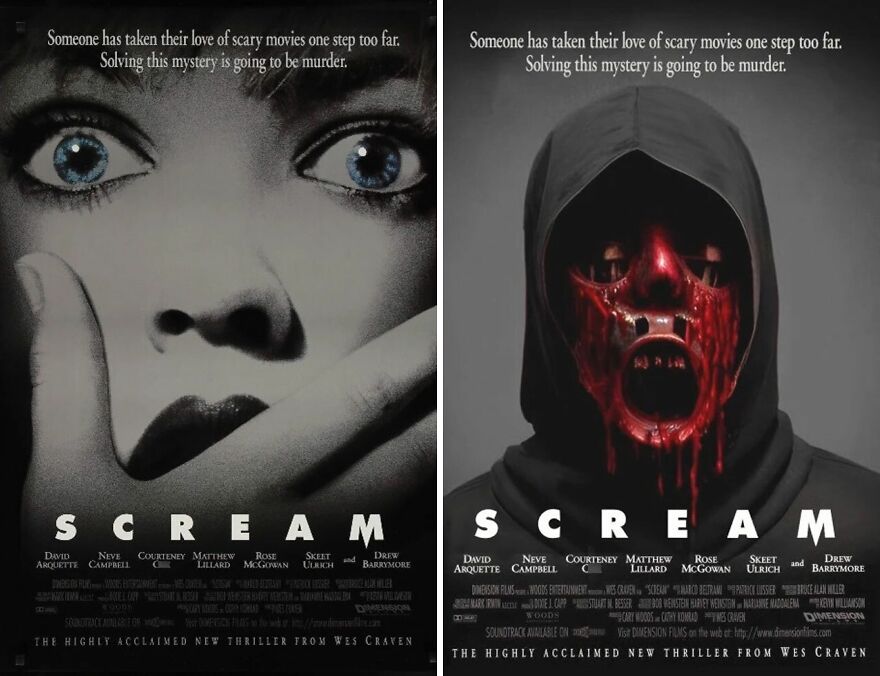 The company who created these posters is Evoluted which is a digital agency that specializes in "bespoke web design & development, digital design and ROI-focused digital marketing." The Design and Digital PR teams at the company thought they could use their technology, specifically AI app Wonder, for a little bit of fun since Halloween is right around the corner.
They took their favorite horror movie poster and redesigned them with the help of AI. In their article Evoluted explained the process a bit, "To create the new concepts we submitted relevant keywords from the film into an AI tool and took inspiration from the original posters to generate the new eerie images."
We reached out to Evoluted and got in touch with Victoria Collins, the Senior Digital PR Executive at the company. She revealed a bit more about how the posters came about, "In a bid to keep the concepts as similar to the original posters as possible, we tried a number of different keywords and styles, generating multiple artworks for each film before choosing the one which best resembled the film's poster. Our design team then added titles, credits and other features that were inspired by the original posters to the artwork, creating a polished design that felt just like a film poster."
#2  Dracula
#3  Silence Of The Lambs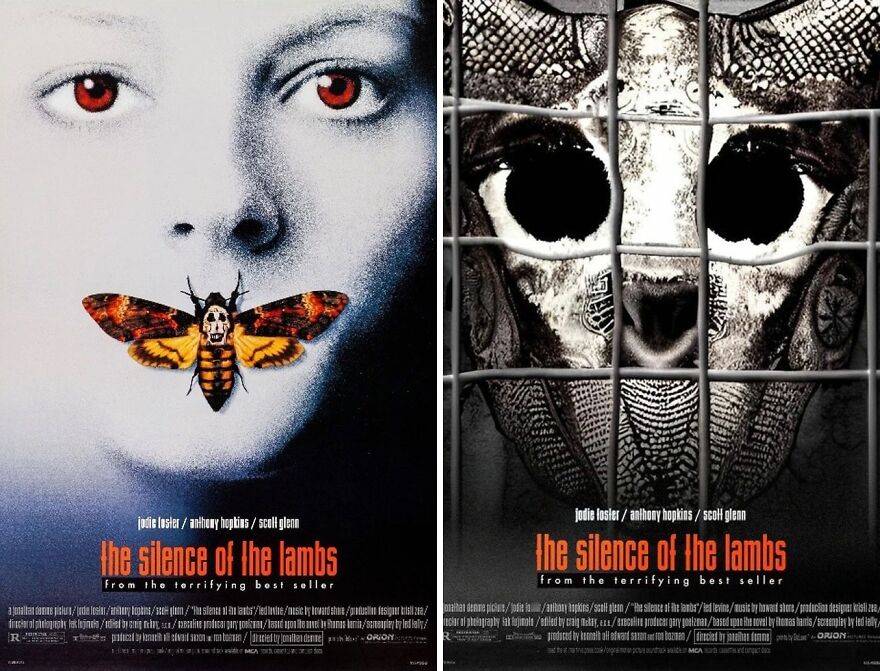 Although there was quite a bit of human work involved, Victoria told us that actually "AI's involvement was much more dominant than human involvement as we worked around the design that the AI had produced."
Which is a bit unsettling to think about as creativity is mostly a human trait and it seems that AI can have different interpretations of the same thing. We were curious to know what was the company's view on it and Victoria told us, "It is scary how the AI tool interpreted our keywords as all the images it produced were unnerving. As a creative agency, it is also interesting to see how tools like this and others like AI copywriters are being used more and more in the marketing world. The tool automatically determines the best places to insert shadows, colours and lighting conditions and produces a creative concept as well as any design professional. It just shows how advanced AI technology is becoming."
And since we were on the topic of horror movies and some of them show the world ruined by AI, one must wonder if it can actually happen. Victoria doesn't have a comforting answer, "As society relies so heavily on technology, it wouldn't be a surprise to me to see AI's involvement in the world's future catastrophes."
#4  The Birds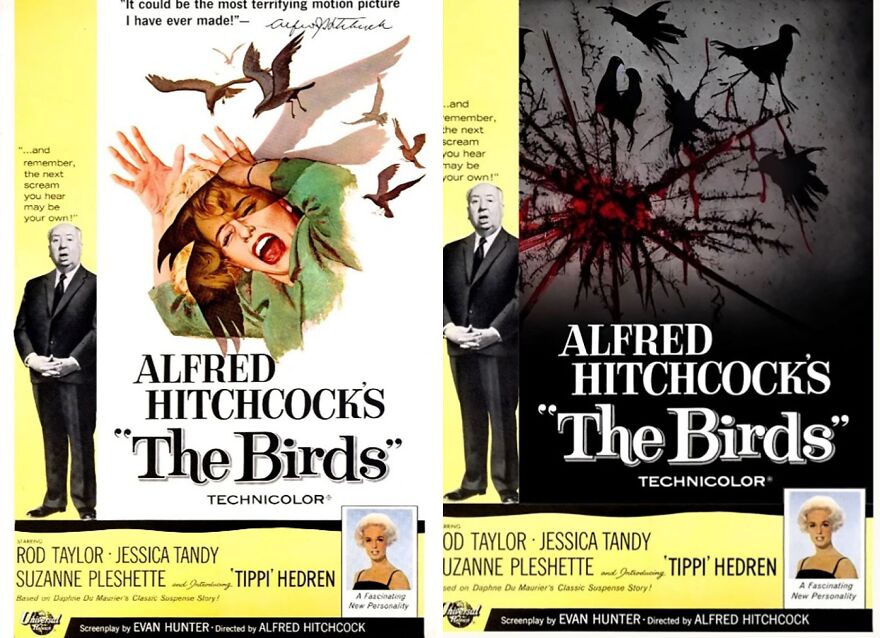 #5  IT
Occhi Magazine says that movie posters are so important that they can make or break a movie because it is the image of the advertisement. Granted, movie trailers are more popular because you can actually get a glimpse of what's coming, and posters are becoming overlooked, but they are still very valuable.
They describe it as the "main design element that captures a persons' interest." But in the world of images and videos, it's not that easy to grab someone's attention and make them want to watch the movie. "The challenge is to design a poster that has the right balance, which conveys the movie's theme. Too many elements in the design will force a viewer to overthink. People will find it difficult to interpret and gloss over it. A lack of key elements in the poster, and you risk a loss of interest because it didn't convey the message. Never make the viewer think or overthink."
Envato lists the elements that all movies must have. Besides the obvious ones like the title, actors, director, release date or any other text, it needs to have exciting graphics using bold colors and large typography. Then it's the designer's job to let their creativity go.
If we would like to summarize it, "Perhaps what all movie posters strive to have in common is a sense of summation—the narrative, mood, and/or characters of a lengthy movie need to be condensed into a single static image."
#6  Child's Play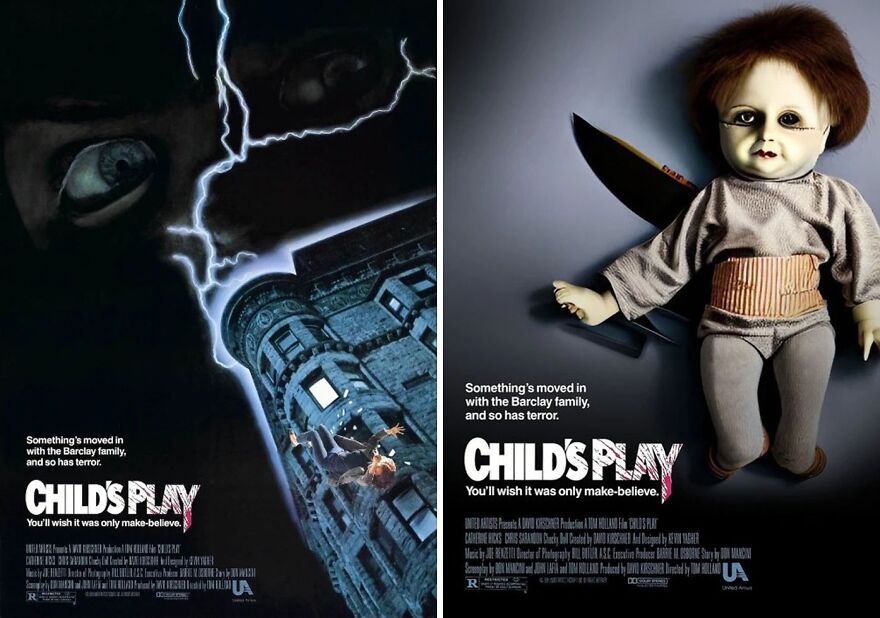 #7  Jaws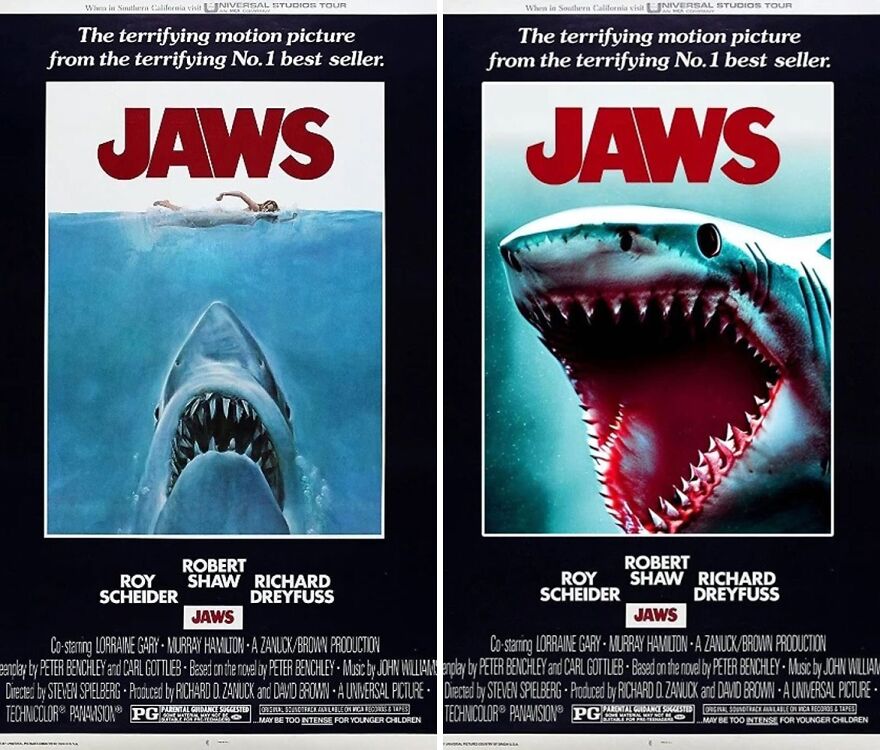 We have come a long way from the beginnings of poster making. The very first ones were actually hand-drawn illustrations and in the 1970s, photography became more widely used. Now designers are using various software and are unlimited in what they can put on it.
We are entering a new era in which we can create posters by using AI. Although these posters are made for movies which already have posters, who's to say that the technology can't be used for upcoming movies?
#8  Nightmare On Elm Street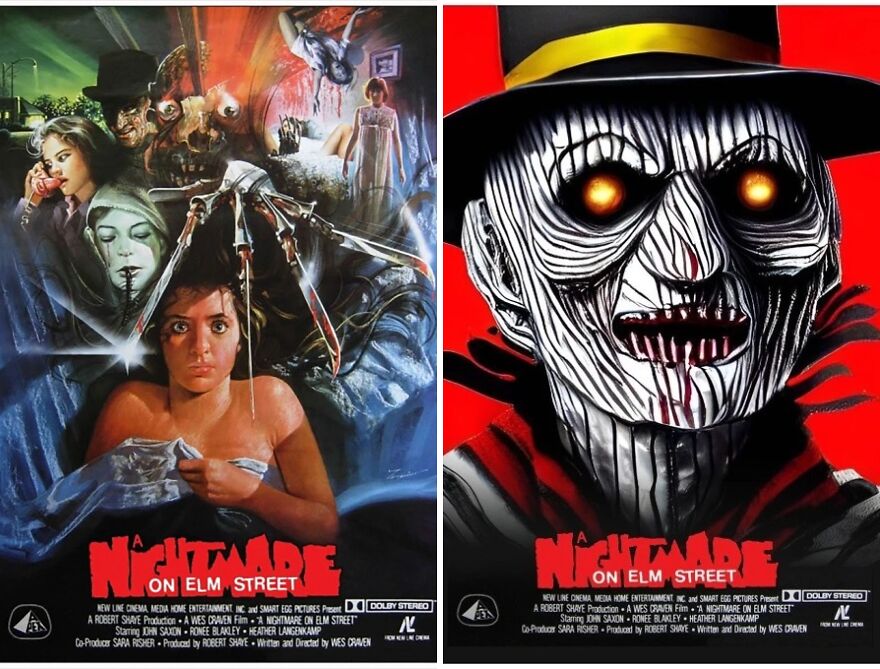 #9  The Texas Chainsaw Massacre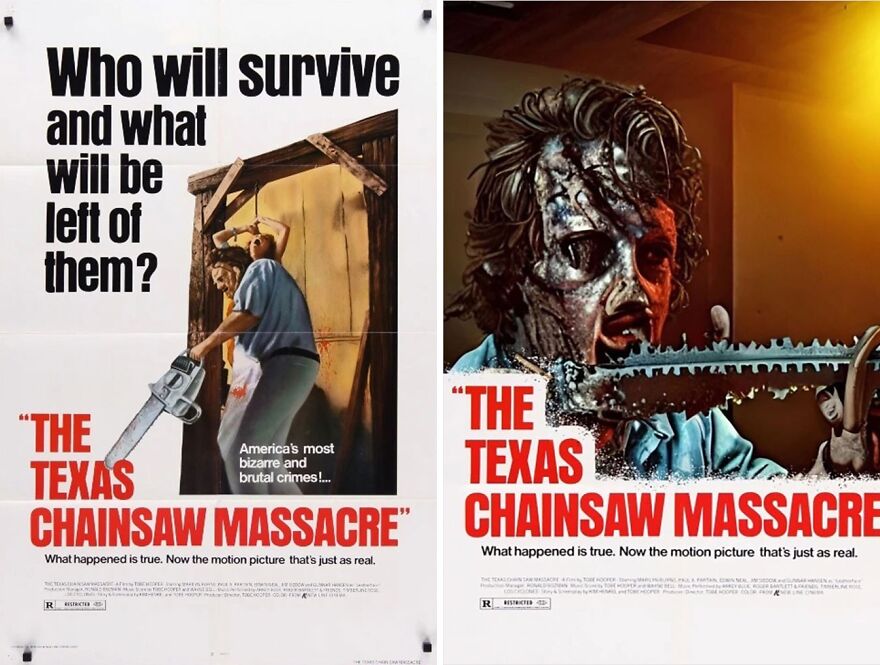 #10  Friday The 13th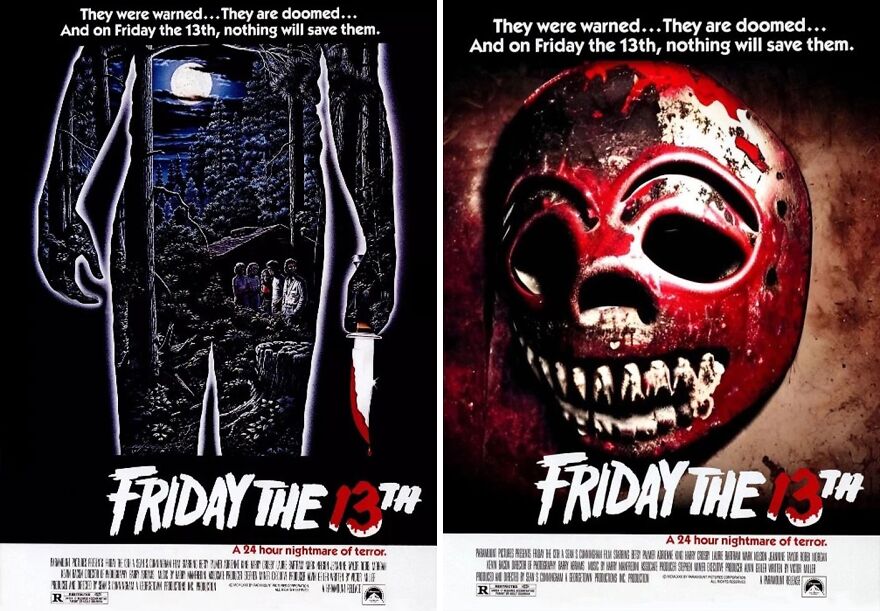 Which one of these are your favorite? Do you think they are better than the originals? What do you think about the future of movie posters? How do you feel about AI in general? Do the horror movies about it taking over the world convince you that it might come true? Let us know your thoughts and reactions in the comments!
Credits: boredpanda.com