While it can be quite fulfilling, or even downright romantic, to work at a restaurant, waiting is said to be one of the hardest jobs out there when it comes to customer service.
And the reason is that you gotta deal with a lot of different people, including all of the entitled, arrogant, Karen-y, or straight up bad ones.
But there are also times when something good can be drawn from it, and where human decency prevails.
One such story has been going viral online lately, where a front-of-house employee at a restaurant had a bad run-in with some rude patrons, and the chef decided he wasn't going to have any of it.
More Info: Twitter | Instagram
You can't choose your clients, but you can surely show them the door if they're trouble, like Chef Lee Skeet did
Meet Lee Skeet, founder and chef at the Cora restaurant in Cardiff, United Kingdom, who has recently shared how he handled some unpleasant patrons at his restaurant.
The story goes that a group of rich folk came over to his restaurant, ultimately racking up a bill of £1,100 (or about $1,350). But the bill wasn't the problem—their patronage was.
You see, according to Skeet, they were quite a rude bunch. In his post on Twitter and Instagram, which was actually his e-mail to said clientele, he explained that the 22-year-old front of house employee named Lily was talked down to, disrespected, and touched against her will by folks in this group.
In his now-viral tweet, he explained how he taught the rude clientele a lesson by banning them and giving their money to the 22-year-old front of house employee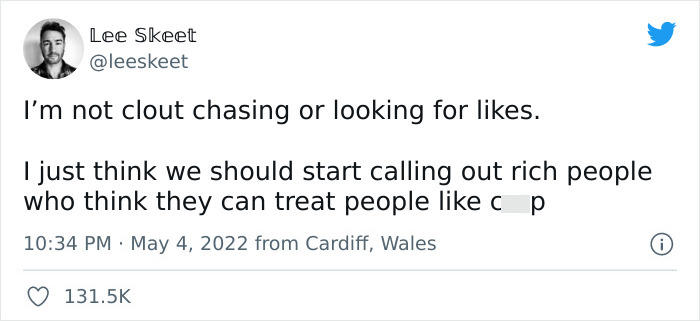 According to Skeet, the group's behavior was inappropriate as they talked down to the employee, showed disrespect, and touched her against her will
At first, he thought of returning a part of the money, but he ended up simply transferring all of it to Lili as fair compensation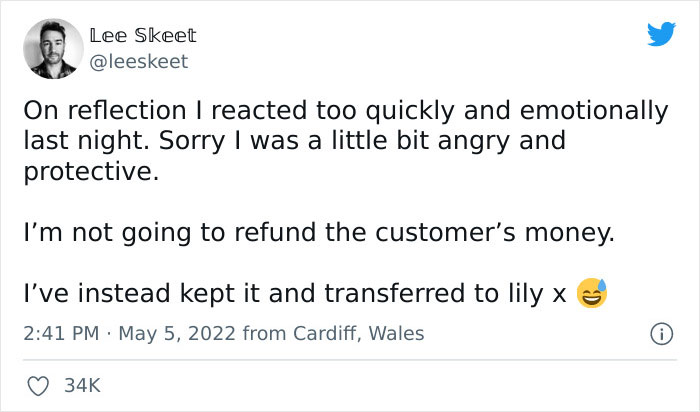 After talking to her extensively, he decided that it's best that the clients never return to the restaurant. And, at first, he wanted to also send them their money back, having taken away nearly 10%, or £100 off the bill as a well-deserved tip for Lily, but he ended up giving her the whole £1,100 bill.
"I also think you should assess the people you surround yourself with," concluded Skeet in his letter to the client. The letter soon found its way on to the above mentioned social media platforms where it didn't go unnoticed.
Soon after posting, Skeet's message went viral, prompting not only wider media coverage, but also loads of praise for standing up for his coworker and setting a good example for restaurant managers.
In a follow-up post, he also expressed how proud he is of Lily for keeping up a high level of class and integrity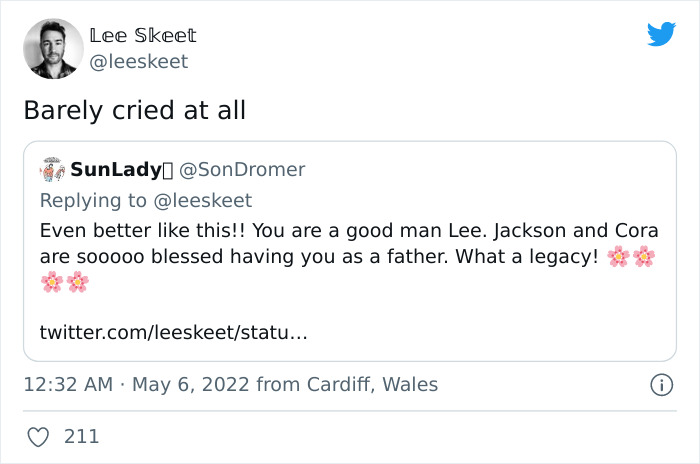 In a follow-up post, Skeet also expressed how proud he is of Lily, keeping up a high level of class and integrity, and that she's an inspiration to many.
And, as it turns out, Ince, a London-based law firm, has begun an investigation after the restaurant's owner's complaint as it was the company's senior staff that attended the dinner, so there is a chance of them getting their just deserts. There are no further comments from the law firm as the investigation is still ongoing.
Folks online were very supportive of Skeet's decision, and shared some of their thoughts on the matter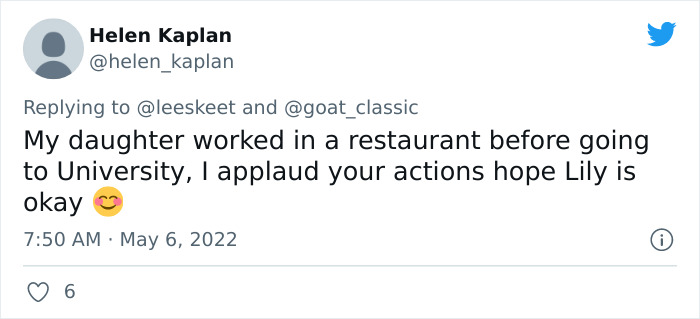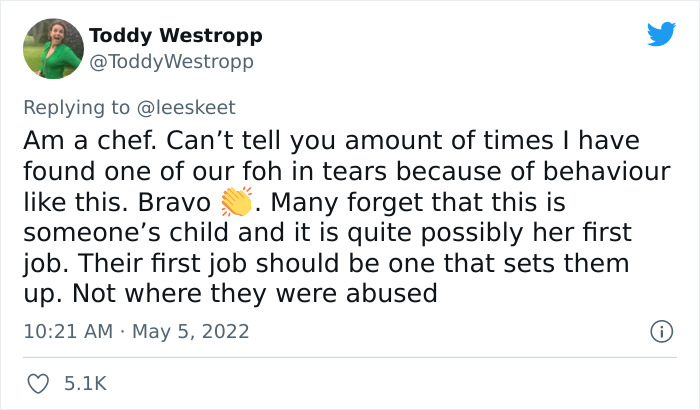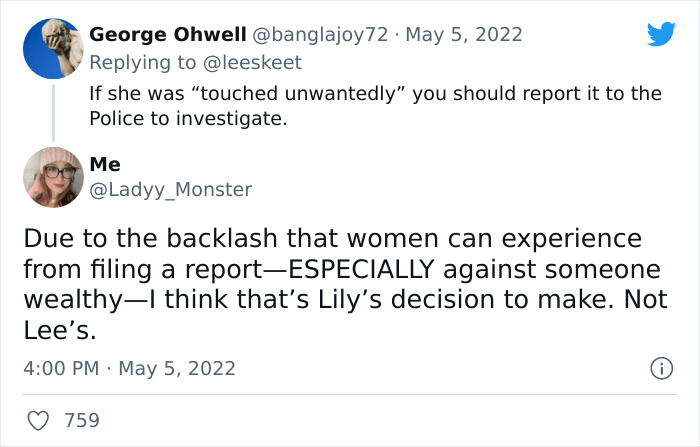 But the whole situation has been going wildly viral online, as Skeet's tweet garnered 131,500 likes with a bit over 14,000 retweets, and has seen nearly a couple thousand likes on Instagram too.
As for reactions, folks praised Skeet for being a good boss, agreeing that the way he handled the situation as it fit the inappropriate way the clientele handled itself.
According to some commenters, this isn't a rare occurrence, as noted by other chefs, waiters, and relatives thereof, who explained that workers are not "playthings", suggesting that the next time something like this happens, someone intervenes immediately and asks the patrons out.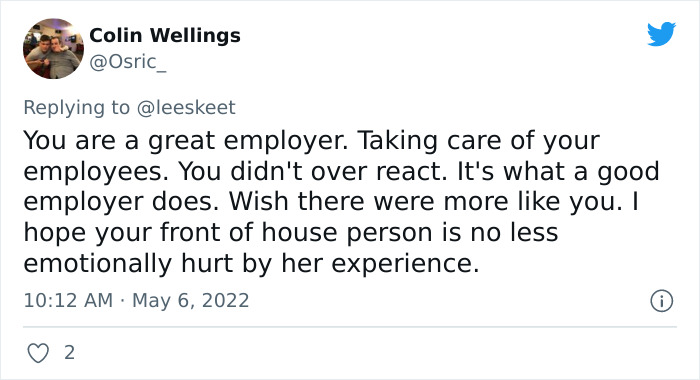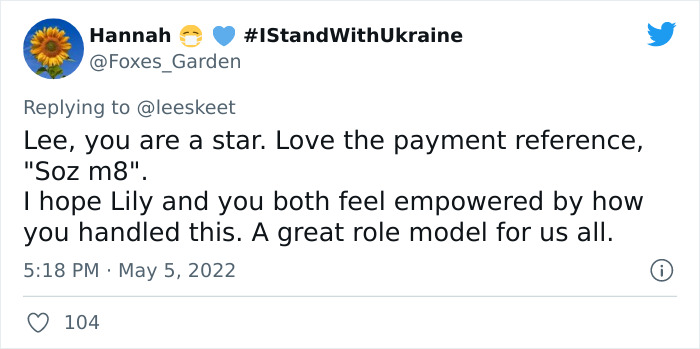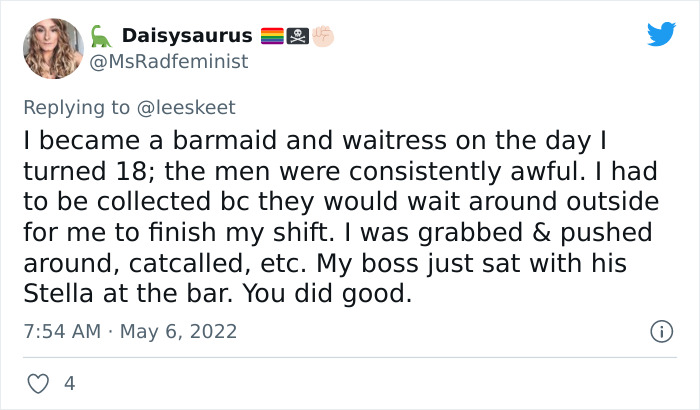 Credits: boredpanda.com